EZ Dock Sections from EZ Dock Montana
EZ Dock's polyethylene dock sections offer unmatched performance when it comes to modular docking solutions.
Our revolutionary design is durable, slip-resistant, and low maintenance to help ensure enjoyable time on the water.
Each dock and port section include the decking surface and float structure in a single, integrated unit. No frame and no expensive decking are required.
Constructed with extra-heavy and extra-thick walls for optimal strength, the unique pylon (chamber) design allows the dock sections to remain stable while adapting easily to changing water levels, even under rough weather conditions. The pylons keep the walking surface strong and solid and keep you safe. EZ Docks can support 62.5 pounds per square foot including dead load. For a 50-square-foot dock (5'x 10′), this is an amazing 3,125 pounds.
Our docks are specially designed to be used in all four seasons, allowing docks to remain in the water even during times of ice and snow when not exposed to moving currents. This saves you time and money and protects your investment.
Only 100% virgin linear low-density polyethylene (LLDPE) is used to make EZ Dock products. LLDPE is more flexible and less brittle and is much more resistant to common damages experienced by docks. This is how our products are able to withstand heavy-impact damage. LLDPE is already resistant to UV rays, and we add additional UV-16 inhibitors to extend the life cycle of our products.
Rotationally molded, our products do not have any seams or connection points. This process also facilitates the placement of plastic where extra strength is needed, such as exterior vertical walls that are no less than .5″ thick at any point.
Available in multiple shapes and sizes, EZ Dock sections can be configured for anything from simple private residences to complex marinas and platforms. Want to change your design or add to an existing design?
EZ Dock sections can be easily reconfigured or expanded at any time.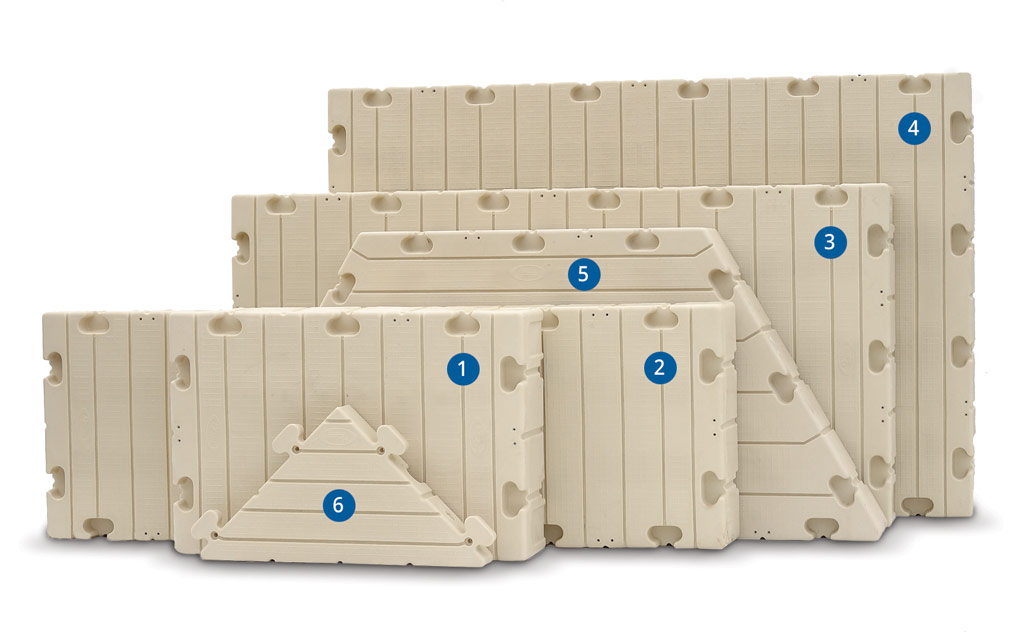 Related EZ Dock brochures, catalogs, and manuals available for download: